I've been sitting here at the Tucson library for the last two hours enjoying the wifi, but unable to login to post here until I was right about to leave and look for some lunch.So forgive me, but this will be quick. I'll do a couple more complete posts when I get back to San Diego, (in less than a week!)
After leaving Flagstaff for second time I headed south. I passed though the little town of Pine which Pam recommended to me for the handmade ice cream and antique stores. Sadly, the ice cream shop was closed on Wednesdays and I'm not really interested in antiques. But I did get some blue cheese and tomatoes and that made for a nice lunch later.
Spent the afternoon at Tonto Natural Bridge State Park, which was very pretty and a nice break from all the driving. I have no especially good pictures uploaded though, so you'll just have to follow the link to see it. I'm finding I don't know how to take decent (moving) water pictures with my little point and shoot.
Slept in a little town along the 60. There was much driving involved in these two days. My memory is a bit fuzzy. The next day's big adventure was a stop in Pietown for an early lunch of peanut butter pie. Quite tasty. Pretty much the rest of the day was spent driving with a short stop to sit in the back on the van and wait for a break in the cars on the road so I could record the narration for my interview with Dr. Gillette.
I'm pretty sure there were also stops along the way for reading and napping. It all meant that I got to the VLA right before sunset when they close. But, of course, that meant I got to take both sunset and sunrise pictures of the telescopes.
The telescopes are amazing. And it's awesome to just be driving along and then suddenly be driving through them. The array (22 miles in diameter) is split by the road and there are cows and other animals wandering near them. I hung out at the visitor's viewpoint and watched the sun set then headed out to find a place to stay for the night. The best place that didn't involve a vast amount of driving was a pullout area with camping tables where I got
checked up on by a passing patrolman, but other than that no problems. Next morning I woke up early, sat at the view point again and wrote for a while until the VLA opened for visitors. It was a cold windy morning but the rain didn't start until after I'd finished wandering around the campus.
The VLA is in the middle of nowhere, (of course, that's part of why the spot was chosen), but I'd definitely recommend a stop there. It's a reasonable side trip from Albuquerque, especially if you combine it with Bosque del Apache Natural Wildlife Refuge which I went to next.
The refuge was recommended by Dr. Gillette. It was GORGEOUS.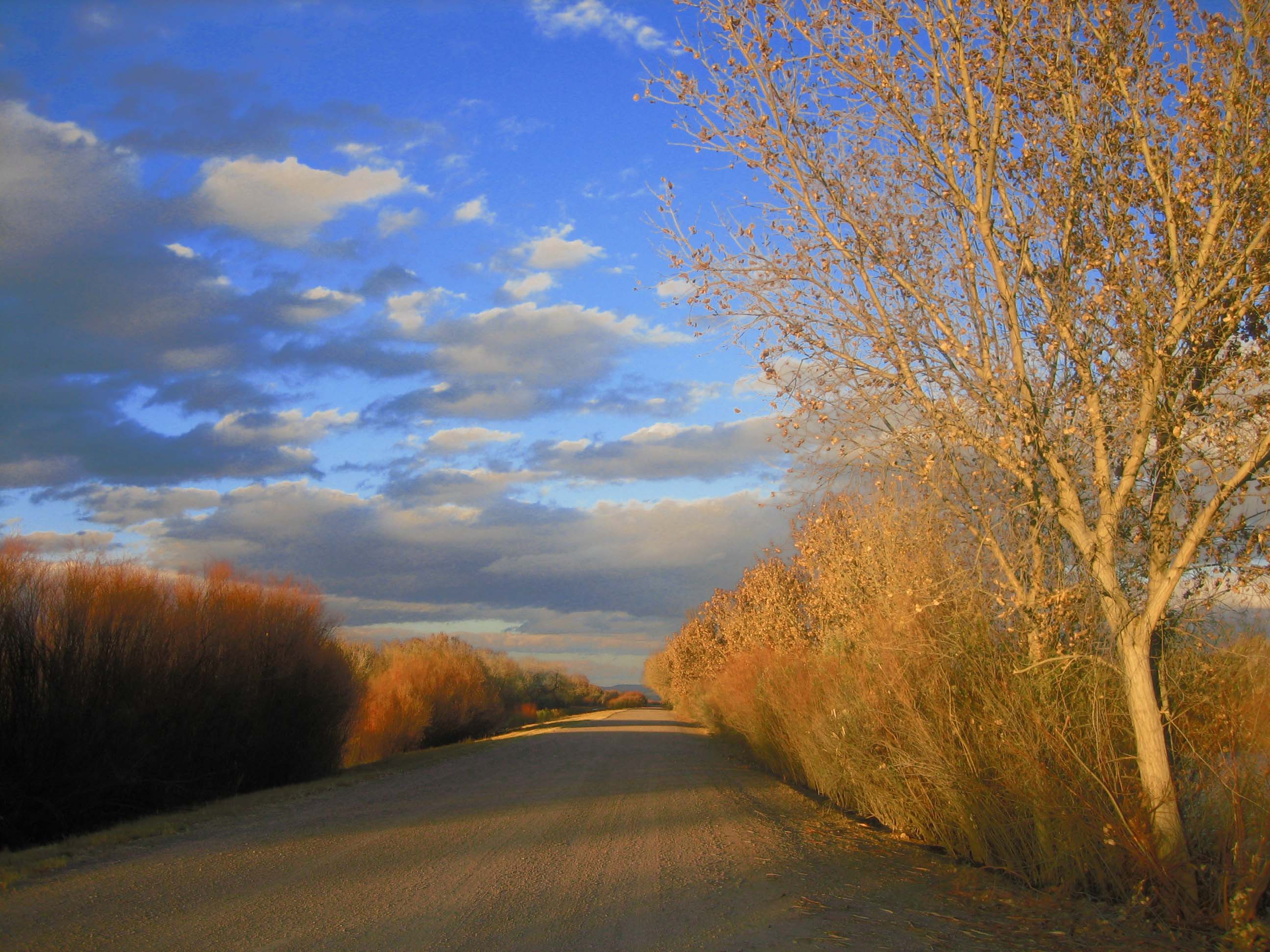 There's a 13.5 mile driving loop around a couple of the marshes that I biked around. Took a bit longer than I expected so I finished it in the dark. (The map up at the visitor's center also claimed the road was paved, which it is very much not, so that slowed me down some too.) It was nice to finally be back on my bike since I think it'd been about 5/6 months since I've done any riding. Still I'm ashamed to admit my legs were sore for the rest of the night. 13.5 miles shouldn't have done that, though I was working against a tough headwind for about half the ride.
After Bosque del Apache I drove on up to Albuquerque. Possibly my favorite day of the trip. Definitely my favorite day of solo-sightseeing.
I'm afraid you'll have to wait for Albuquerque. It's just after 3 and I haven't had lunch yet I may not get around to it until I'm back in San Diego, but I promise flood of posting during the few days I'll be there.